Agritourism & Agritainment
 
The rural United States is a popular tourist destination.  According to a study by the Travel Industry Association of America, nearly two-thirds of all U.S. adults, or 87 million individuals, have taken a trip to a rural destination within the past three years.

What is Agritourism?
Webster.com defines agritourism (agriculture plus tourism) as "the practice of touring agricultural areas to see farms and often to participate in farm activities."
 
The technical answer … a form of commercial enterprise that links agricultural production and/or processing with tourism in order to attract visitors onto a farm, ranch, or other agricultural business for the purposes of entertaining and/or educating visitors.1
 

What is Agritainment?
Agritainment (agriculture plus entertainment) is the term used to describe all of the fun and exciting activities available to children, adults, and families when they visit a farm destination like Kids, Cows & More.
 



Agritainment activities include:

petting zoos
hay rides
u-pick-it or pick-your-own crop fields
children's play areas
children's discovery farms
destination mazes
pumpkin patches

fall festivals

Halloween attractions
traditional Christmas events
school field trips
farm stores and restaurants
Growth and Appeal of Agritourism:
Agritourism, along with nature-based tourism,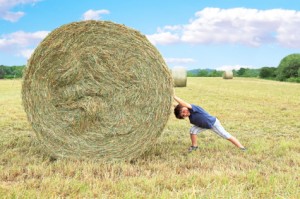 average a 30-percent increase annually nationwide, making these the fastest growing segments of the tourism industry.2
Moderately priced farm vacations offer a wide variety of locations, activities and attractions. The number of people taking luxury vacations has plummeted throughout this tough economic time, however, anyone can escape from the daily grind with a getaway to the fresh, country open air. You can make it a daytrip, or, with prices varying from $35 per day to $800 per week, farm stays offer the perfect solution for bringing families together, without breaking the bank.3
Considering that half of American travelers say they're looking for ''cultural authenticity,'' according to the research firm PhoCusWright, it's not hard to see how fetching eggs from the coop seems thrillingly real.
Jane Eckert, an expert in agritourism and founder of Eckert AgriMarketing, says that in the last few years there's been a dramatic surge in people seeking a ''simpler life.'' Whether in reaction to economic uncertainty or as a desire to go back to their roots, Eckert says, ''they are coming to the countryside and wanting to live the life they can't have in the city.'' 4
Agritourism destinations like Kids, Cows & More offer people the opportunity to experience something that is completely different from their daily lives.  Agritainment offers and escape from the stress of traffic jams, cell phones, office cubicles, and carpooling!
Years ago most people had grandparents or a cousin that lived on a farm who they visited every summer. Today, more people live in urban areas and so do their grandparents or relatives. As this trend has developed so has the need for the farm experience or agritourism. In addition, visiting an agritourism destination is a great day trip or weekend family activity.5
1 "Agritourism an Overview", www.NationalAgLawCenter.org, July 2007
2 University of Kentucky College of Agriculture New Crop Opportunities Center, 2004
3 "Farm Vacations Serve as Economical Alternative and a Fun, Summer Escape" ComputerSor.com, June 24, 2010
4 "Greener Pastures", New York Times Style Magazine, www.tmagazine.blogs.nytimes.com, March 17, 2010
5 www.agrimissouri.com/agritourism.htm, Sept 28, 2010, 6:02pm